La Rioja from above is even more amazing.
* Prior reservation required.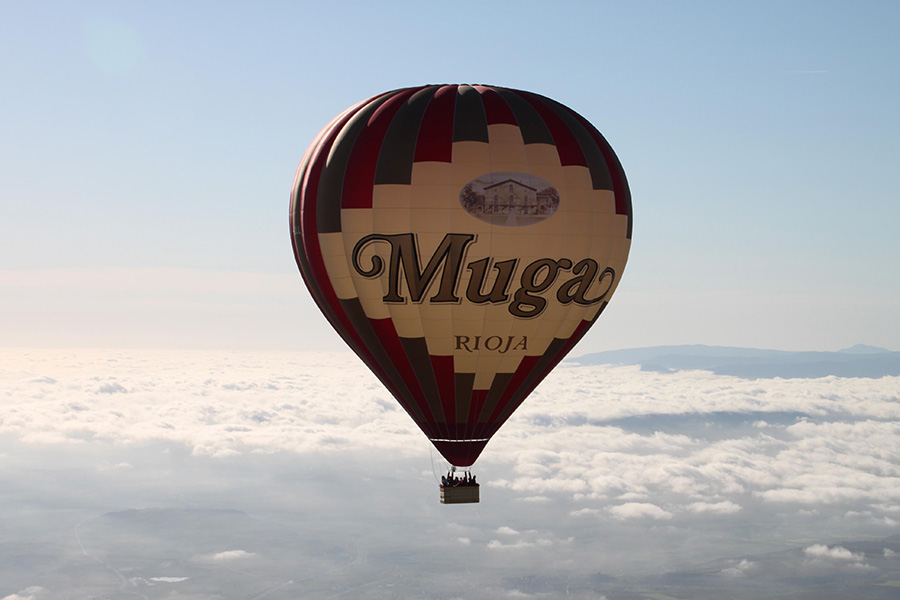 Enjoy the unique experience of a hot-air balloon trip and a mid-morning snack in a vineyard, a unique and unforgettable experience.
Pick-up point: The winery will pick you up at an agreed location an hour before sunrise, provided the weather for the flight is favourable.
Preparation and inflation of the hot-air balloon: we will all take part in assembling and inflating the balloon.
Lift-off and flight: In 20 minutes, we will be ready for lift-off. Experience how we rise off the ground. We will fly for approximately an hour over the vineyards and fields within the area at the wind's mercy.
Landing: Our tracking vehicle will pick us up at our landing point, after which we will enjoy a well-deserved mid-morning snack.
Celebration and farewell: We will present you with a commemorative flight diploma ("Aerial Baptism"), take you to the meeting point and visit Bodegas Muga. Enquire about lunch options in the winery.
* Final flight confirmation will be sent two days before the date, as soon as there is a favourable weather forecast.
** In the event of an adverse forecast and having to cancel the flight, Bodegas Muga offers the following options:
Cancellation and reimbursement.
Re-scheduling the activity to a future date.
Organizing an alternative activity.
* [Activity carried out by Globos ArcoIris, a company included in the registry of tourism services providers under registration number TA-LR-01]
Flights only offered during the weekends and / or holidays except for groups and/ or exclusive flights.